VIII World Cup F3K "Zielona Góra 2020"
X Eurotour Contest F3K "Zielona Góra 2020"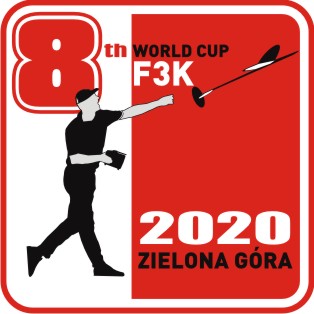 The competition is part of the FAI F3K World Cup 2020 and the Contest Eurotour F3K 2020.
Zawody są dofinansowane ze środków
Urzędu Miasta Zielona Góra.
The competition is financed by City council of Zielona Góra



Date and place:
22-24 May 2020 Aeroklub Lubuskie Land Airport www.azl.pl CAMERA
Przylep - Skokowa 18
66-015 Zielona Góra, Poland
Phone +48 68 3213010
Coordinates: 51°58'44 N 15°27'49 E

Contact person:
Leszek Małmyga
e-mail: Ten adres pocztowy jest chroniony przed spamowaniem. Aby go zobaczyć, konieczne jest włączenie w przeglądarce obsługi JavaScript.

Registration:
The registration starts on the 1st of April 2020. 
Rejestracja zawodników jest wstrzymana ponieważ obecna sytuacja w Europie i na Świecie nie gwarantuje, że zawody uda się przeprowadzić w wyznaczonym terminie. O wszelkich zmianach będę na bieżąco informować.
The registration is suspended because the current situation in Europe and all over the world doesn't guarantee that we will manage to conduct the competitions in scheduled term. I will inform about all changes up to date. 

Please register on-line ONLY. Registration will be closed 15 May 2020 or in the moment of achieving maximum amount of competitors - 80. Pilots will be divided into 5 groups, 16 in each group.

The organizer of the competitions doesn't organise the accommodation (competitors have to book places on their own).

Accommodation options:

1. AEROPLAN hotel  Przylep-Skokowa 18AB Zielona Góra
at the Airport.

2. MOTEL 118 hotel  Zjednoczenia 118 Zielona Góra
2,5 km from the Airport.

3. Camping on the field is available free (it is necessary to arrive with own tents). Toi - Toi toilets and wahsbasins are also available on the airfield.

Meals:
Meals on Saturday (including banquet) and Sunday serves restaurant "Kolorowa" on the airfield. During the competitions (on Saturday and Sunday) there will be free water, tea and coffee for competitors.

Official languages:
Polish and English

Frequencies:
35 MHz, 40 MHz and 2,4 GHz (CE certificate).

Competition Rules:
- FAI Sporting Code  Section 4 – Aeromodelling Volume F3 Radio Control Soaring Model Aircraft 2020 Edition
- FAI Sporting Code Section 4, Aeromodeling CIAM General Rules Volume 2020 Edition
- FAI Code of Ethics
- FAI anti-doping Rules

Insurance:
Individual

Entry fee:
35 Euro senior / 20 Euro junior

Awards
Winners will be awarded with trophies. The best junior competitor will also receive trophies. All competitors will reveive t-shirts.

Classification of Competitors:
All competitors who take part in the competition will be ranked in World Cup and Eurotour.

Jury President:
Mr Jacek Grzesica /Poland/
Other members (three participants) of the jury will be choosen from the participating pilots.

Contest Director:
Mr Zbigniew Zdziuch /Poland/

Chief Judge:
Mrs Ewa Dudziak - Przybytek /Poland/ 

Translator:
Mrs Mirella Małmyga

IT Service Manager:
Mr Piotr Majdański /Poland/


Mass Media:
Mr Mateusz Banach /Poland/ 


Tasks list may be modified depending from the Weather and the number of competitors.
All results from Saturday will be considered in the Contest Eurotour Zielona Góra 2020. All results from Saturday and Sunday will be considered in the World Cup Zielona Góra 2020. Fly-off round is not planned.


Competition program

Friday, May 22

400 p.m. to 600p.m. - competitors registration in the airfield
100p.m. - 800p.m. - official training


Saturday, May 23

800a.m. - 900a.m. - competitors registration in the airfield, training and briefing
915 a.m. - opening ceremony in the airfield
930a.m. - 130p.m. - competitive flights
130 p.m. - 230 p.m. - dinner in the airfield
200 p.m. - 730 p.m. - competitive flights
830p.m. - banquet in the airfield - till the early morning :)


Sunday, May 24

900a.m. - 230p.m. - competitive flights
230p.m. - 330p.m. - dinner in the airfield
330p.m. - awarding of prize and closing ceremony in the airfield


Protest
In case of putting forward a proposal to the competition manager in writing, the competitor is asked to pay 35 Euro assessment. After receiving it, the Jury solves it. If the protest is acknowledged, the assessment will be returned.

Note:
As provided in FAI Rules, competitors not involved in flying or helping another
competitors may be asked by the organizer to operate as timekeepers.
In case of bad weather or any other case the organizer reserves a right to change the timetable.